There are several forthcoming and recent publications that I'm really looking forward to acquiring. Some of the currently published ones only have a hardcover version published at a ridiculous price for a student; hopefully, inexpensive paperback versions will soon become available. Considering my main interest in philosophy is in the 19th-century (esp. Nietzsche) and in psychological theory (esp. Nietzsche's drive theory), this looks to be a very good year for my reading.
19th-Century:
1. The Routledge Companion to Nineteenth Century Philosophy.
This text discusses German Idealism, philosophy as political action (incl. young Hegelians, Marx, and Tocqueville), rethinking the subject (incl. Schopenhauer, Kierkegaard, and Nietzsche), engaging naturalism (incl. Darwinism, experimental psychology, and Neo-Kantianism), Utilitarianism, American Pragmatism, and new directions in philosophy of mind and logic (incl. Prentano, Frege, and Husserl). The 960 page text includes an essay on Nietzsche by the well known Nietzsche scholar Ken Gemes. (
Hardcover
)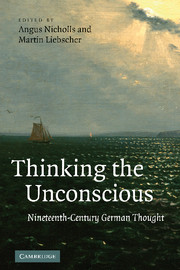 2. Thinking the Unconscious: Nineteenth Century German Thought.
This text traces the development of pre-Freudian ideas on the nature of the unconscious. This text seems vital as a historical source on the development of psychology as well as for understanding the nineteenth century in which such ideas were beginning to flourish. The 376 page text includes an essay by Sebastian Gardner as well as an essay by the well known Nietzsche scholar Christopher Janaway on Schopenhauer. (
Hardcover
)
Nietzsche:
1. The (New) Oxford Handbook of Nietzsche.
I have been looking forward to this text for quite some time, which will include an essay by Paul Katsafanas.
2. Cambridge Critical Guide to Nietzsche's On The Genealogy of Morality.
I am looking forward to this compilation, which will include an essay by Brian Leiter.
3. Nietzsche, Psychology, and First Philosophy.
As commented on by Janaway, this book aims "to place Nietzsche's project in light of the earlier French
moralistes
" including La Rouchefoucault and Montaigne. Robert Pippin's book will be a very interesting addition for any student or professor interested in Nietzsche. (
Hardcover
)
4. Nietzsche, Naturalism, and Normativity.
Another forthcoming compilation edited by and with an essay by Christopher Janaway.